MotoCross Graffiti Bedding Set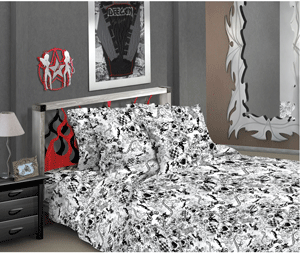 Available in twin, full, queen, king and cal king. Price starts at
$139.95
Clic here for more details.
Best Selling Kids ATV
Kazuma Meerkat 50 ATV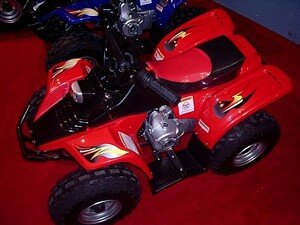 Retail Price:$825.00
You Save: $300.00
Your Price: $ 525.00

Fun Stuff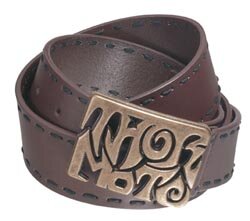 Youth ATV Motocross Accessories, Wallets, Belts, Watches at Raceway ATV
Click here for details.
Who's Online
We have 2 guests online

Watch the latest videos on YouTube.com
Don't Miss Mississippi - ATV Riding Clubs
Written by Raceway ATV - the #1 kids Kazuma ATV dealer

Updated: Tuesday, 20 March 2007
Known as a part of the country that is filled with lowlands that makes it the perfect choice for ATV racing and trail riding (as opposed to mountainous climbs), Mississippi is not only a great travel destination for ATV campers and enthusiasts from all over the country, Mississippi makes the perfect practice place for ATVers. For those who are trying to escape the blinding chill of winter, Mississippi might be a good choice for ATV riding. Although occasional shower is to be expected through the state, the weather is heaven-sent as far as ATVers are concerned.
So, for people like me and you who would like to have a little bit of ATV fun right after Christmas dinner, here are a list of ATV websites and ATV clubs that you might want to contact to see if your schedule of events permit a hook-up with their activities.
* Mississippi ATV Association
If you're interested in heading on over to Mississippi for some ATV fun, you'll need to get in touch with Dane Maxwell whose email address is This e-mail address is being protected from spam bots, you need JavaScript enabled to view it , phone number is (228)586-5900, and fax number is (228) 255-7157 . although this Mississippi ATV Association is relatively new, they're growing leaps and bounds every single day. They are pumping a lot of effort and money into growing the club and organizing more activities and events – especially over the holiday season. This Mississippi ATV Association is active that they have BOTH day and night rides. Most of their ATV activities are family orientated unless they specify that the activity is purely competitive or suitable for adults only. This Association's activities are usually filled will fun, food and laughter. If you're keen, the membership fee is $30 a year (which is well worth the price if you're active in joining them in their many activities throughout the year) and they're working on coming up with special membership benefits right now. so, give them a tinkle and see if there's a possibility of a hook-up.
Mississippi ATV Association
8462, Clep Smith Road , Pass Christian, MS 39571
* Extreme4x4Good time.
This is the main focus of this 4-wheeler club. It doesn't really matter to these guys whether the machine you've got is three, two, four or ONE wheel. Just as long as you love to have fun and like to watch others have fun, you're in! Greg Curtis, the main contact of this Mississippi ATV club welcomes people who would like to ride their ATV anytime, anywhere. Now, don't you agree that fun is the most important element in ATV riding?
Address: P.O. Box 7326 , Jackson , MS 39282
Email them: This e-mail address is being protected from spam bots, you need JavaScript enabled to view it
Call them: (601) 317-1811
* Southern Off Road Outlaws
With a name like that, you shouldn't be expecting anything else other than pure unadulterated fun! Although they wish to play around in the mud all day, all week, all year…most of their ATV activities are held during the weekends. They refer to themselves as a bunch of Rankin County Rednecks who loves to get together and ride and play in the mud. If that sounds like fun to you, go on ahead and contact them.
Email them: This e-mail address is being protected from spam bots, you need JavaScript enabled to view it
* South Mississippi ATVA
Here's another association for you to look up. this Mississippi Association is also relatively new although they are bent on making Mississippi a fabulous ATV racing destination for not only ATV freaks within the United States, they are aiming to make Mississippi one of the best ATV locations. Their focus is in getting ATV trails into shape so that everyone can enjoy riding their ATVs in Mississippi without having to bear with the rundown parks and trails that some people are enduring right now. They will have loads of information that you can definitely make use of if you're looking for places to ride in Mississippi.
Contact: Rodney Fagan Jr.
Email: This e-mail address is being protected from spam bots, you need JavaScript enabled to view it
Phone: (601) 776-3800
=============================

Only registered users can write comments.
Please login or register.
Powered by AkoComment Tweaked Special Edition v.1.4.2