MotoCross Graffiti Bedding Set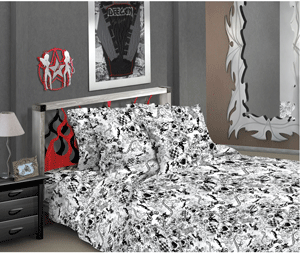 Available in twin, full, queen, king and cal king. Price starts at
$139.95
Clic here for more details.
Best Selling Kids ATV
Kazuma Meerkat 50 ATV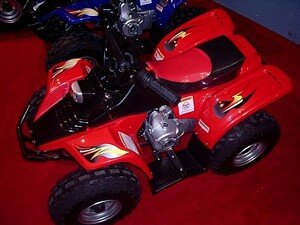 Retail Price:$825.00
You Save: $300.00
Your Price: $ 525.00

Fun Stuff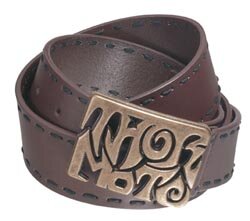 Youth ATV Motocross Accessories, Wallets, Belts, Watches at Raceway ATV
Click here for details.
Who's Online
We have 2 guests online

Watch the latest videos on YouTube.com
Haspin Acres OHV Trail (Laurel, Indiana)
Written by Raceway ATV - the #1 kids Kazuma ATV dealer

Updated: Sunday, 10 February 2008
It's not something you can break your neck in and there is literally nothing too adrenaline-pumping here at Haspin Acres, an OHV park in Laurel Indiana but this means it makes the perfect place to bring the kids too. To be fair, even though most parts of the trail consists of beginner and intermediate trail, the more skilled driver can try to rev it up at their at one part of this Indiana ATV trail called the Devil's Backbone. It's nothing too tough if you're good on your ATV, honestly, but don't reckon anyone with less than 5 years of intensive ATV riding experience to try it out, though.
The terrain is pleasant and beautiful…but then again, what can you expect from some place like Indiana….the weather's almost pissing smiling at you. So, when you ride the 750 acres of ATV trail, you can expect to overheat quite a bit. There are lots of wooded hills which are fun. And you should NOT miss taking it round to the hills because that's where the shades are! And the smell of nature is as much exciting as it is intoxicating.
Anyway, it's cheap riding at this Indiana OHV trail because getting a license to ride for a day costs $15 per person (last time I checked, though). Don't forget that you have to purchase a 'liability waiver card' for $1 each….which basically tells you that you ride at your own risk. If you break a bone, you're on your own. Just kidding….almost ALL ATV and OHV trails everywhere in the country will tell you that, anyway. While some parks and ATV trails closes certain times or months of the year, the good thing about Haspin Acres OHV trail in Laurel Indiana is that it is open three-hundred and sixty five days of the year. I love the fact that they have well-maintained bathroom (God Bless the management!) and shower facilities as well. In fact, this OHV park in Indiana is so commercial that they have a restaurant open during weekends!
Who should ride this trail? OK, here's the thing. Haspin is not the kind of ATV trail where you can challenge your friends to a round of hard-core ATVing….but most parts of the ATV trail is good for families. Yes, just sign your leave form, pack your stuff, grab the kids and the dog and head on over for a couple of days of riding. There's camping to be done here as well, so, it's good, overall. The kids and beginners should have tons of fun riding the smaller Supercross-style track. It allows for slower riding and more technical jumps and corners. This is the time to teach your kids a trick or two about riding their ATVs. If you want something a little harder, try out their motocross-style track is has BIGGER jumps, sharper corners and faster track.
Do you have to ride an ATV to ride at this Indiana park? Nope….not at all. in fact, you can ride just about anything you want that has wheels, which includes SUVs, rail buggies, modified trucks and dirt bikes. If you're into challenging yourself, give their website a visit and check out some of the races, like scramble races and dirt drags, they organize here! Should be pretty fun and I am going to book myself in for one of their races….I might see you there.
There's one thing I noticed, though. The 750 acres are not marked….would've been better if they marked the trails so that we could find the individual trails easily…but well, I guess the OHV trail is just too huge. The usual rules apply, like helmets, no riding pillion, muffler….and there's one other thing. If you have kids riding with you who is under the age of 18, you must have a signed waiver form from the parent of guardian. So, if you're an instructor, get the waiver form printed and copied, hand it over to the kids, have the parents sign the form and bring it along during the trip. If you're not going to camp there but intend to stay there at least overnight, there are many options for you to choose from in Connersville Indiana just less than 10 miles off of Highway 121.
For more information and directions on how to get there, visit https://www.haspinacres.com