MotoCross Graffiti Bedding Set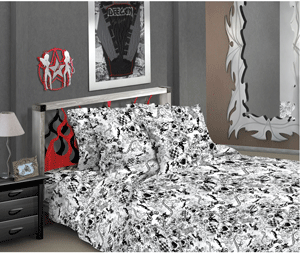 Available in twin, full, queen, king and cal king. Price starts at
$139.95
Clic here for more details.
Best Selling Kids ATV
Kazuma Meerkat 50 ATV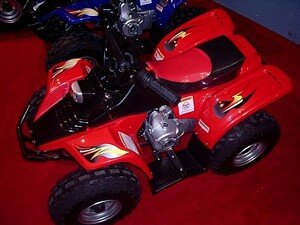 Retail Price:$825.00
You Save: $300.00
Your Price: $ 525.00

Fun Stuff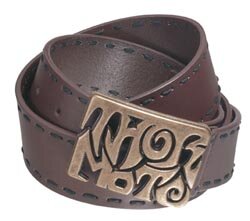 Youth ATV Motocross Accessories, Wallets, Belts, Watches at Raceway ATV
Click here for details.
Who's Online
We have 2 guests online

Watch the latest videos on YouTube.com
No Brake-ing The Rules
Written by Raceway ATV - the #1 kids Kazuma ATV dealer

Wednesday, 12 March 2008
The brakes of your ATV is one of the most important parts of your quad….I don't even have to explain why. It's important to keep your brakes in tip-top condition by performing regular checks and replacing worn parts. The brakes is a mechanism that helps you control the speed of your ATV, therefore, don't take the chance with a faulty or worn-out one. Not only that, did you know that the general cleanliness of the brakes can make a difference to their performance? In fact, racing experts argue that in order for the brakes to perform properly and ensure complete safety, someone needs to get down and dirty and check the brakes and adjust them accordingly right before riding the quad. But since we're not professional ATV racers who ride as often as they do, I suppose checking them once in a while should do the trick.
When the brakes of your ATV is good condition, they should respond to your action instantly. An efficient braking system gives you enough time to respond to dangerous situations, that's why the response rate is important. And as the years wear on, the response of the ATV brake will lessen and slowly, it will take the ATV a longer time to come to a complete stop. Experts refer to this as 'tightness'. The tighter your brake is, the more efficient it is.
Don't worry if you're not good at machines or parts of your ATV….you can either take your ATV to the mechanic every once in a while or maybe get down to the job yourself. Listen, it's not all that difficult to do, trust me. It's a dirty job but not a difficult one. First thing first, you always need to test out the brake levers. If you ride your ATV regularly, you will see that there's a collection of dirt and mud all over it. Ah…you need to get those off in order for your brakes to work properly. When you take your ATV racing or riding on rough terrains where bumps are expected, you can expect your brakes to take a beating as well. For example, it's not uncommon for brake pads to get jarred out of position which hampers performance of the brakes.
Another very common problem with ATV brakes are the cables. Cables are not susceptible to rust, so, don't be surprised if the cables begin to rust after their fourth year of service. Give the cables a check every once in a while or take it to the ATV repair shop to get someone to look into the whole brakes system. Fraying is also common with cables of any kind. So, how many times should you check the brakes? As far as I am concerned, I check my brakes quite extensively before every ride – I don't make it a habit to hop on and just ride my ATV! I give it a little bit of a squeeze, a roll, a squeeze, a roll….yeah. I get off my ATV and then check around the brakes to see if there were any strange alien objects there. As far checkups and maintenance, you should send your ATV for general maintenance (if you're not doing it yourself) every once in six months.
I've been riding ATV for many years now and the most common problem that I've found with brakes is 'cleanliness'. Yes, you've heard me right! Dirty brakes just can't work well – that's the truth. "I don't know how to clean the brakes", I hear you say? It's simple as ABC, folks. Here's how. Clean the brake pads with a clean cloth and alcohol (not those for consumption, mind you) or sand paper. If there are things stuck in the braking system, pry the fella lose and toss it. Clean the cables that you can see and oil them up a little bit….this is not to be done every time you check but lubricate them once every few months if you want to be safe. Remember to clean and lubricate the brake arm and pivots as well.
That wasn't so hard. After you've checked your ATV brakes, ride it for a couple of rounds and see how it feels.