MotoCross Graffiti Bedding Set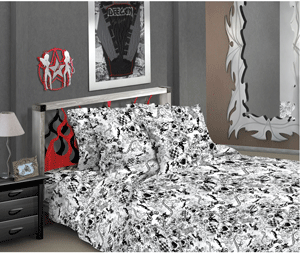 Available in twin, full, queen, king and cal king. Price starts at
$139.95
Clic here for more details.
Best Selling Kids ATV
Kazuma Meerkat 50 ATV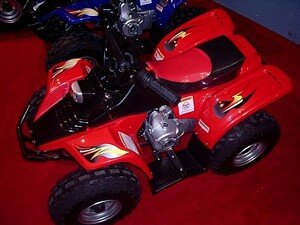 Retail Price:$825.00
You Save: $300.00
Your Price: $ 525.00

Fun Stuff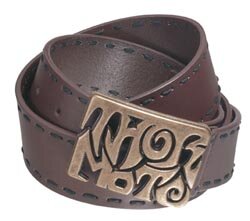 Youth ATV Motocross Accessories, Wallets, Belts, Watches at Raceway ATV
Click here for details.
Who's Online
We have 2 guests online

Watch the latest videos on YouTube.com
Ride Hard at Club Moto of California
Written by Raceway ATV - the #1 kids Kazuma ATV dealer

Updated: Wednesday, 12 March 2008
It's hard to find a race track or terrain that gives you the best of the indoor and outdoor ATV riding experience. If there's one in California, my take would be the Club Moto located in Livermore California. One note – if you're riding dirt bike, your options are wider. However, if you're planning to ride your ATV there, the club is only open to you on Sundays from 3.00pm on wards till about 9.00pm. No matter, it's still a great track to try out any time of the year. After all, sunny city California has all the advantages in the world for being warm all year round!
This is a recreational facility with both an indoor man-made obstacle course which you can ride on your dirt bike or quad. It's a rather challenging GP racetrack, I have to say which includes parts for the more experienced riders and the beginners as well. Compared to other quad and dirt bike tracks I've seen, Club Moto is one of the few cleaner and better-maintained ones. I see a lot of people cleaning around, mopping, picking stuff up, hardpacking the place and then smoothing some other parts up for the little ATVs to ride. Apparently, there are people working the track every single day in order to provide a safer racing environment for people who ride there.
If you're the kind who easily gets bored with the same terrain over and over again, well, this is not something you have to worry about because Club Moto people keep their track terrain fresh for regulars by giving the track regular facelifts. You can ride there throughout the six hours that they're open if you like….and oh, if you're worried about riding around on your quad in the dark, you don't have to. Allow me to exaggerate a little here – the lights they provide on the track is literally blinding so you can see very well where you're heading even after the sun sets.
Well, compared to other quad and dirt bike tracks, it's a little bit more expensive to ride at Club Moto. Each rider is required to fork out about $20 each time they ride. If you plan to ride this quad and dirt bike track often, why not just take up their monthly pass which is currently priced at $125 per person; $200 for parents and their kids! If you dig out the calculator and do your math, hey, it's pretty worth your money!
Of course, as with any other quad and dirt bike recreational racing facility, they're pretty strict about waivers, parental consent and stuff like that. You're required to sign up a form that you can print from your computer before heading over here. https://www.clubmoto.com/cm/forms.shtml especially if you're under eighteen years of age at the point of riding at Club Moto. BOTH parents of the underage kid should be there when they ride and the waiver MUST be notarized. I know…it's a little bit of a hassle there but once you start riding there, you'll see that it's worth the time. The club's gotta do what they've got to do in order to protect themselves from people suing their asses off.
When I was riding there, I saw a couple of people being hauled out of the tracks for using loud exhaust systems. Well, anything louder than a conventional stock exhaust will not be allowed to ride there. If you have a muffler, bring it. If you don't, go get it! The good news is, since this isn't in a forest reserve area, you don't need spark arresters….but nothing wrong with having them on anyway.
When you take your quad or dirt bike riding here, you might want to check out some lessons too. The training is provided by Terry Bostard who has been riding since the age of fourteen. At seventeen, Bostard got factory support from Yamaha and despite an injury, he came first in the CMC Northern California Champion in 85, '86 and '87, so, you know you're learning from the right guy. If you're free, check out his three-hour group riding lessons held at….yes, Club Moto.
Club Moto is a quad and dirt bike track that's open on Saturdays from 9am till 3pm. On Sundays from 9am till 5pm and then on Wednesdays (used to be Thursdays, I believe) from 3pm till 9pm. If you need more information about this quad track, call their hotline at (925) 443-6686….it's a good idea in case you want to know what the weather is like beforehand. For a detailed map and directions, click here .