MotoCross Graffiti Bedding Set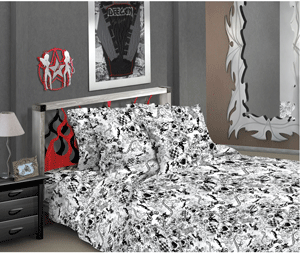 Available in twin, full, queen, king and cal king. Price starts at
$139.95
Clic here for more details.
Best Selling Kids ATV
Kazuma Meerkat 50 ATV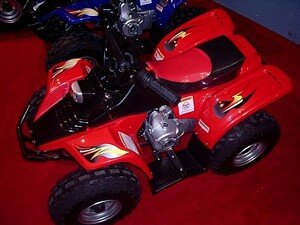 Retail Price:$825.00
You Save: $300.00
Your Price: $ 525.00

Fun Stuff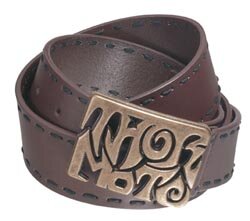 Youth ATV Motocross Accessories, Wallets, Belts, Watches at Raceway ATV
Click here for details.
Who's Online
We have 2 guests online

Watch the latest videos on YouTube.com
Big family event in Big Rock Park in Maysville Kentucky
Written by Raceway ATV - the #1 kids Kazuma ATV dealer

Sunday, 10 February 2008
It's a proven fact…there's more to Kentucky than just fried chicken! This was what the kids said when we had a HUGE massive family gathering at Big Rock Park in Maysville Kentucky recently. I saw in their brochure or the Internet or something that this is one of the most family-friendly ATV and dirt bike parks in the country…and I have to say that after spending time there riding, I have to agree. The weather was pleasant and the ride there wasn't too rough. Despite being built on a private piece of land, the ATV and dirt bike park is open to the public. The managers of the ATV and dirt bike park dictate that no other vehicles (types) are allowed in the park….yes, that means no four-wheelers and other large vehicles. I say, grab an ATV and ride anyway!
Unlike other parks, this ATV and dirt bike park is made for everyone….and I mean EVERYONE from the age of 2 to 200. whether you're an experienced rider or a beginner, there's something for you to ride. I mean, you can't go wrong since they've got, like….2,000 acres for you to ride on. I heard some of the guys saying that this Kentucky ATV and dirt bike park is one of their favorites because it keeps changing, growing and adding more land to the park. And one of the staff told us that the manager of this park is consistently on a lookout to expand the park. I suppose it IS a very lucrative industry, indeed.
When you ride your ATV or dirt bike here, don't forget to stop by at the bluffs…which is everyone's favorite place in the park. This is where you can stop the ATV, get off, and grab the camera and just cam-whore for a couple of hours! It looks down towards the Ohio River with streams of greens running along the sides. It was a breathtaking view.
The rules are simple and straightforward – the helmet is a must, so, wear one before you even hop on one or you'll find an official trailing after you. During this trip, one of the kids forgot their helmets and a very nice lady offered to loan us her kid's ATV helmet! How nice! Riding pillion is not allowed, like any other normal ATV park unless the ATV was made for that. Of course, being a family-orientated place, alcohol is not allowed….not in the park and not in the campground. If you had to drink with your buddies, it'd be best to head out to a nearby pub instead.
I suggest camping for free here since their campgrounds are pretty neat and are well-equipped. They have showers and very nice (as in primitive-nice) restrooms where the kids can shower and get cleaned up after the ride. If you're not willing to let the mosquitoes feast on your flesh, renting a cabin is not expensive. I saw an advertisement saying that a cabin with 4 beds going for $30 a night! $30 for peace of mind….hhhmmmm….worth it, wouldn't you say? During peak seasons, remember to call ahead of time. Cabins like these are limited and they're snatched up if you wait too long to reserve a room for yourself.
The great thing about riding at Big Rock ATV and Dirt Bike Park is that you're never too far removed from civilization. I mean, if you get tired of the birds and mosquitoes, the city is very near. There's a huge supermarket nearby where you can stock up on bare necessities. PLUS, there are many ATV dealers, rental shops, and accessory shops if you bust a tire.
So, if you have a weekend free and the kids are whining about an outdoor camping trip, take me up on my suggestion then. This is one worthwhile place to visit with the kids. We stayed for three nights in a row and the kids ALL had a ball. We spent $17 for the first night and then $10 for each following night. The admission is cheaper for the kids, though, so cost is not an issue. Check out their season pass when you're done and find yourself longing for more – their season pass is about $150 per adult.
Big Rock can be found in Maysville which is somewhere about 50 miles or so off of Cincinnati. Take Route 9 to get there and just keep going heading towards Maysville. About some time later, keep a lookout for Wendy's and about 5 miles after that, you should see a huge sign leading you to this popular Kentucky ATV and dirt bike park.
I had as a good a time as anybody else when we took our ATVs there and I think it's an amazing family-orientated place for kids and adults alike!