MotoCross Graffiti Bedding Set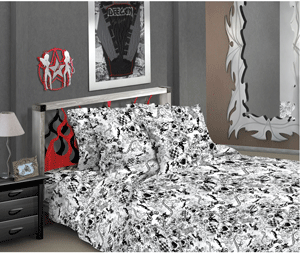 Available in twin, full, queen, king and cal king. Price starts at
$139.95
Clic here for more details.
Best Selling Kids ATV
Kazuma Meerkat 50 ATV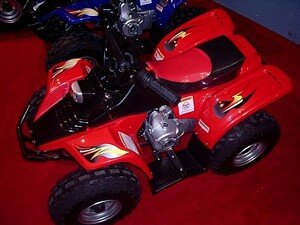 Retail Price:$825.00
You Save: $300.00
Your Price: $ 525.00

Fun Stuff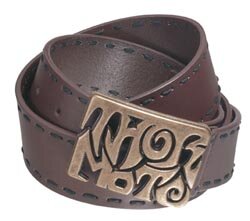 Youth ATV Motocross Accessories, Wallets, Belts, Watches at Raceway ATV
Click here for details.
Who's Online
We have 2 guests online

Watch the latest videos on YouTube.com
Equipping Your Youth For ATV Riding
Written by Raceway ATV - the #1 kids Kazuma ATV dealer

Wednesday, 12 March 2008
With Christmas season rolling off the brand new year, and then the New Year confettis have been swept, is there a reason to go on a splurging spree for someone or for yourself now? Well, of course there is! There are, in fact, multiple valid reasons why you should splurge with
www.racewayatv.com
. Who else on the Internet has the kind of fierce reputation as one of the web's leading online retailer for mini ATVs, ATV-related products, ATV accessories, ATV tires and other replacement parts. None, that's the answer. Well, that's in my books, anyway.
Hence, in today's blog post, I want to put the spotlight on some of the youth products we have. I am going to start dressing up a youth with the right accessories and ATV from the basics up, ok? I want to start with the right kind of ATV…assuming your kid's medium-skilled, I'd like to start with the either the Jetmoto 150cc or if he/she's got what it takes, you can try the Jetmoto 200cc instead. Both are ultra-cool quads that goes for only $1,399 and $1,599 respectively. I mean, if you check around for ATVs and quads for youth, you can see and make the comparison yourself. We're not kidding you here and I am not here writing to pull wool over your eyes or anything but it's been some time we see such cool quads at this kind of pricing. And another amazing thing about these quads I just mentioned up there is that Jetmoto uses a technology that reduces the general weight of the quad. That's why I strong recommend these youth quads for your kids.
Now, let's move on to the next item…the helmet….which is the most important accessory to get for your youth. Check out some of the aesthetically-pleasing and safety-assured ATV helmets we have for your youth here. Don't like it? worry not, my friends….we have tons more where that came from, you can find lots more ATV helmets to choose from
here
. We've painstakingly labeled the helmet pages with either 'youth', 'kids' or 'adults', so, be sure to click on the right one before you order. And also, before you get all excited and rummage for your credit card (we're not too excited about going through the wrong purchases process), check the helmet size. Never order ATV helmets off the Internet without measuring your kid's head. No estimating, ok? It doesn't work.
Then I would go down to the riding gear. I wouldn't do without the right youth ATV riding gear if I were you but I've seen many youths and young kids tear down the streets without ATV helmets on, without wearing the right accessories and ATV riding gear before and what I have to say to that is this….don't say I didn't tell you! I warn every single person I see about wearing the right ATV gear when riding. Gee, I hate sounding like my mother but yeah….
The
Thor Youth Core Jersey
together with the
Thor Youth Core Pants
looks perfect on just about any youth, if you ask me. They come with matching jersey, pants and gloves too. These ATV riding apparel are made to protect the rider and also to provide maximum comfort. It's designed to work TOGETHER WITH your body as you stretch, bend, flex and contort your body in multiple ways while riding your ATV. And I love the fact that the material don't stick to your body when you start sweating and although it looks like your second layer of skin on the outside, breathability is one of their biggest selling points. Accordingly, Thor designs who came up with other similar ATV riding apparel for youth have paid special attention to the length of the sleeve in an effort to avoid hampering movement and maximizing comfort. The cuff is stretchy, therefore, no worries but the ATV riding gear becoming uncomfortable for your youth. Thor Youth Core Jersey and Pants, most importantly, protects your youth from chaffing, ATV-related accidents, scratches and cuts in the event something happens.
So, before your youth starts zipping around on his or her new ATV, remember to equip them well and help the youth and kids of today, who love ATV riding, stay safe.