MotoCross Graffiti Bedding Set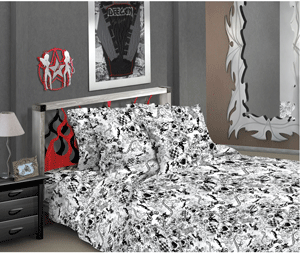 Available in twin, full, queen, king and cal king. Price starts at
$139.95
Clic here for more details.
Best Selling Kids ATV
Kazuma Meerkat 50 ATV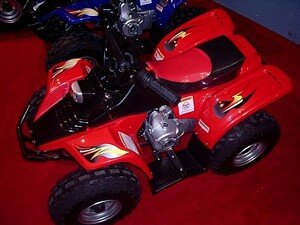 Retail Price:$825.00
You Save: $300.00
Your Price: $ 525.00

Fun Stuff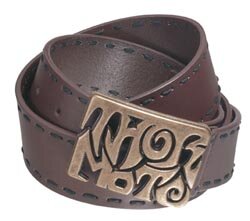 Youth ATV Motocross Accessories, Wallets, Belts, Watches at Raceway ATV
Click here for details.
Who's Online
We have 2 guests online

Watch the latest videos on YouTube.com
Raceway ATV Forum
Written by Raceway ATV - the #1 kids Kazuma ATV dealer

Updated: Friday, 04 January 2008
Raceway ATV is excited to announce the launch of its' new Raceway ATV forum.  Please visit our new ATV forum and sign up as a new member so that you can be entered into our first, free giveaway.  Our giveaway is staring today and ending in one month where one of our new members will have the chance to win a FREE, $100 gift certificate towards any product sold by Raceway ATV.  For more details on how to sign up as a member and how to enter into our free giveaway, please visit us at Raceway ATV Forum!      
This ATV forum is a great meeting place for those members who are interested in the powersports industry.  Raceway ATV has designed its' ATV forum so that all members can post their questions or comments on any of the topics that we have chosen or any topic that may be of interest to them.  Take this opportunity to sign up as a member so that you can chat with fellow members about the latest news on kids ATV's, Chinese ATV's, Chinese ATV parts or any other topic that sparks an interest among the members.    
The Raceway ATV forum is dedicated to keeping its' members updated on the latest news involving the powersports industry, but we cannot do it alone.  Log on and sign up with us to share your thoughts and ideas on the industry.  By becoming a member of our forum, you have the chance to be entered into some great free giveaways and contests and at the same time, you have the opportunity to update us on what you know and even post photos and uploads of your latest powersports experience.    
With so many topics posted on Raceway's ATV forum, the information you can obtain is endless.  Parents should check out the kids' forum section where information about the latest safety tips, guidelines, and regulations are listed.  The kids' forum is great for those parents who already have an ATV or dirtbike, but may have some questions or for those parents who are interested in purchasing and are not sure which to choose. Visit the Chinese ATV forum section where members are discussing some of the most interesting topics on Chinese ATV's that will blow your mind.    
Raceway ATV looks forward to reading your posts and hopes that you will enjoy being a member of our forum.  If there is are any questions or comments in regard to our forum, please feel free to contact us.  We at Raceway ATV are interested to hear what our members have to say and any comments or suggestions on what we can do to make it a better forum is greatly appreciated.    
=============================

Only registered users can write comments.
Please login or register.
Powered by AkoComment Tweaked Special Edition v.1.4.2