MotoCross Graffiti Bedding Set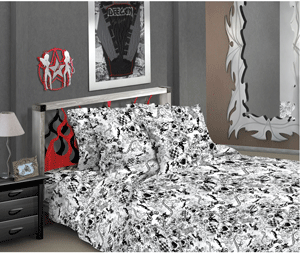 Available in twin, full, queen, king and cal king. Price starts at
$139.95
Clic here for more details.
Best Selling Kids ATV
Kazuma Meerkat 50 ATV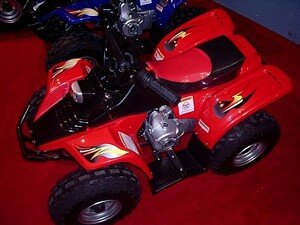 Retail Price:$825.00
You Save: $300.00
Your Price: $ 525.00

Fun Stuff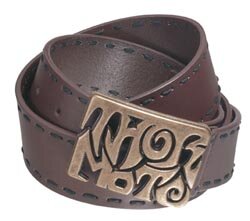 Youth ATV Motocross Accessories, Wallets, Belts, Watches at Raceway ATV
Click here for details.
Who's Online
We have 2 guests online

Watch the latest videos on YouTube.com
ATV review - 2007 Arctic Cat 650 HI 4x4 Automatic TRV PLUS
Written by Raceway ATV - the #1 kids Kazuma ATV dealer

Updated: Wednesday, 12 March 2008
As far as 4x4s are concerned, this 2007 Arctic Cat Automatic ATV ranks among the top few for me. I've ridden hundreds, if not thousands, of ATVs over this lifetime although it's not the best 4x4 ATV even within the Arctic Cat range, it's still a great machine. This is a double-rider machine, so, if you have young kids who are not confident enough on their own, they can ride as a pillion rider on the back without affecting the power, speed and stability of this 4x4 ATV. As far as I can tell, the reason why Arctic Cat's 650 HI 4x4 auto ATV is so stable is because it's very wide and stable. And you don't have to worry about it being too wide, big and heavy for the trails…it's not. They did a nice job with balancing out the stability bit with making it feasible for narrow trails. The kids riding on the back of this 4x4 Arctic Cat might have to stretch a little to ride this, though, but over time, they should get used to it. I loved the handles which were more ergonomic than Can-Am's similar ATV models. Oh, and you've got to fall in love with the suspension…it's the kind of suspension on a 4x4 ATV that every ATV lover have fantasies about!
I remember riding this ATV on a trail once, although it's killing me trying to remember which one (you don't remember the trail but you remember the ATV you rode…says a lot – ed) and when going through the ATV rental store, I chose the 2007 Arctic Cat 650 HI 4x4 auto because I needed to let a friend ride along with me, you see and I was pleased with how this 4x4 ATV can cross streams without a single hint of a hitch and I also climbed thousands of feet up a difficult and rocky terrain on this Arctic Cat 4x4 ATV. If not for the fact that I had a pillion rider with me, I would have tried to climb an almost-vertical hill or wall but…..hey, the thought was there.
I remember thinking how incredibly strong and reliable this Arctic Cat 4x4 ATV was…it was like, the moment you swing a leg over, you know this is going to keep you going…and alive. It's trustworthiness comes from the wide and rugged make. Even if you had a very young kid riding pillion with you, you're not at all worried. It's great for beginners as well…but a strong beginner would be good because it's not lightweight, mind you. Beginners will certainly dig the stable structure and since they are not as scared witless as they can be, they'll be in a better position to enjoy the ride on this Arctic Cat 4x4 ATV. And it's auto, so, no changing of gears is necessary but as with all other autos, it's not a speed demon…but fast enough, I guess. There's good ground clearance too so you don't have to literally squat (don't you just hate that?) on the ATV. The little ones will love rides all around the yard on this one, so, if you do a lot of yardwork at home and have little kids with you all the time, you should consider this 4x4 ATV since it should be able to last you for a long time.
The only problem encountered by a friend who owns this Arctic Cat 4x4 ATV is when he tried to purchase the ATV from the store and Arctic Cat would not extend a line of credit for his purchase. He had good credit as far as his finances are concerned and yet Arctic Cat was not as liberal as Polaris. But for the kind of stability and good customer support from the Arctic Cat staff, it's still worth a buy. And also some parts of the Arctic Cat 4x4 ATV is that the paint is a little too scratch-ible, the mirrors and windshields are a little loose…but maybe my friend was unlucky. All it took was a phone call to the customer service people and everything was fixed fine.
All in all, this is one fine kitty cat.