MotoCross Graffiti Bedding Set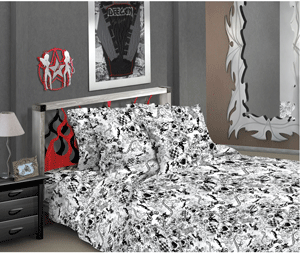 Available in twin, full, queen, king and cal king. Price starts at
$139.95
Clic here for more details.
Best Selling Kids ATV
Kazuma Meerkat 50 ATV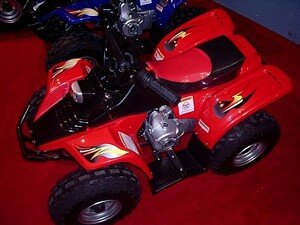 Retail Price:$825.00
You Save: $300.00
Your Price: $ 525.00

Fun Stuff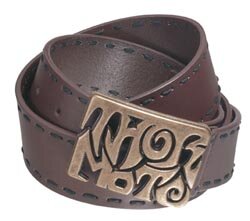 Youth ATV Motocross Accessories, Wallets, Belts, Watches at Raceway ATV
Click here for details.
Who's Online
We have 2 guests online

Watch the latest videos on YouTube.com
MotorSport Entertainment Inc. To Release Two Editions Of ATV Tourbook
Written by Raceway ATV - the #1 kids Kazuma ATV dealer

Sunday, 10 February 2008
You ain't seen a tourbook if you've not caught the previous releases by PowerSports Entertainment. For the past few years, the power house has been publishing the tourbook that covers everything under the ATV racing and motocross racing scene. I love mine and keep them for times when I need to remind myself why I am so obsessed with ATV riding and racing. This year, 2008, I heard from the grapevine that PowerSports Entertainment Inc. will be publishing two versions of their ATV racing magazine again. Hear me scream!
The first edition of the magazine will cover preseason photos of racers, ATVs and all images that they've captured during races. The second edition will come out with postseason photos. Can't tell you how happy I am with that piece of news! Official representatives announced that they will release their official racing program in print called 2008 Powersports ATV Tour on ESPN. I think there are going to be only 30,000 copies of this high quality glossy magazine, therefore, if you want it, you'll have to grab it as soon as they release it. I see that they're planning to release the preseason edition by April 2008, so, keep an eye out for your copy when it hit the stands. I believe you can get your copy of this tourbook at the tracks when you attend the races.
Trust me on this, the tourbook is guaranteed to be a hit with ATV enthusiasts. The second one, the postseason edition of the tourbook will come out around October 2008. If you're a company with a business in the ATV industry, you might want to consider placing your advertisements there….well, you can send an email to Carey Bohn at This e-mail address is being protected from spam bots, you need JavaScript enabled to view it or give the company a call at (952) 215-2418. I grabbed this off the Internet, so I am not too certain the validity of the information. With the date of release so close, I'm not too sure if you can make it for their advertisement deadline.
Let's see, what else are they going to have in the tourbook? Well, I heard that they're going to have a lot of information about venue of the races and details about the tracks as well. What's interesting, to me, is that they're planning to put a lot of behind-the-scene stuff into the magazines as with previous releases. Tell me, who doesn't want to go backstage with their favorite band and watch them do their thing! Well, if you have a copy of this tourbook, this is precisely what you get to see. The purpose of a magazine like this is to, obviously, entertain ATV enthusiasts about the various races and racers. On top of just the entertainment value of the magazine, they aim to educate and inform readers of their mag as well.
Kent Lungstorm, a representative for PowerSports Entertainment Inc. says that the magazine aims to recognize all the races and/from each class that competes in their QuadMX and QuadTerrain series, including the professional races. According to him, every racer and every race will be covered in this tourbook. Impressive….
Owning a magazine like this is very important to me, I don't know about you, though but it really….and I mean REALLY reminds me of the reason why I love ATV riding and racing. I protect my collection with my life. If there was a fire to my apartment (touch wood!), my magazine collection is second in line to my personal identification documents. Well, that's an exaggeration there but give me a break….I don't wrap them up with protective covers for nothing. And if one of my friends borrows one of the magazines and fail to return it, I will break down his door to get it back. I think a lot of other ATV enthusiasts can feel for me here…..hopefully. Anyway, just wanted to share what I heard from the grapevine.
Ride well and ride safe!