MotoCross Graffiti Bedding Set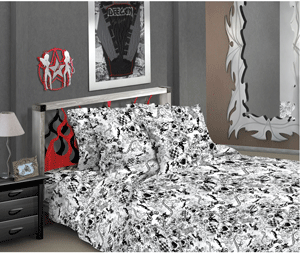 Available in twin, full, queen, king and cal king. Price starts at
$139.95
Clic here for more details.
Best Selling Kids ATV
Kazuma Meerkat 50 ATV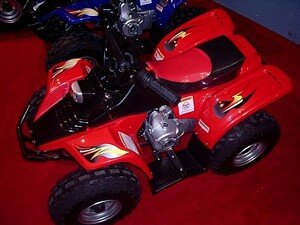 Retail Price:$825.00
You Save: $300.00
Your Price: $ 525.00

Fun Stuff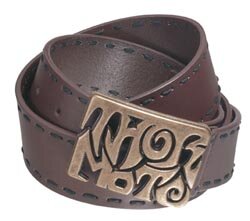 Youth ATV Motocross Accessories, Wallets, Belts, Watches at Raceway ATV
Click here for details.
Who's Online
We have 2 guests online

Watch the latest videos on YouTube.com
Revving up the Kids ATV Honda CRF150R
Written by Raceway ATV - the #1 kids Kazuma ATV dealer

Updated: Wednesday, 30 January 2008
In most cases, owning a two-stroke dirt bike is good enough but there are times when you're watching people like Milsaps, Kevin Windham and Andrew Short take it on with their dirt bikes, you're left looking on silently and longingly. But the question is…why can't you have a smaller version of the kind of bikes that they ride? Why not, really. Honda's CRF150R is the answer. Honda says that the CRF150R is the kind of machine destined to transform another segment of the motocross market in a shift from two-stroke to four-stroke…to shake up the small-displacement classes of two-stroke MX machines. True to their word, we think the Honda CRF150R will do exactly that. It's the kind of bike that is a playbike turned racing bike.
The Honda CRF150R is a bike that uses the same technology as some four-stroke bikes they produce with a four-valve Unicam engine, a single chain-driven camshaft, twin-sump lubrication system, a five-speed close-ratio transmission and internal auto-decompression system. And that's not the end of it because the Honda CRF150R has a forged slipper-type piston with Nikasil cylinder lining and two, instead of one, radiators.
Although the Honda CRF150R doesn't sit in an aluminum frame like the other bigger Honda bikes, it has a 37mm leading-axle inverted Showa form, an adjustable rear shock and an aluminum swingarm.
Other features of the Honda CRF150R
* 32mm flat-side FCR Keihin carburetor with TPS
* lightweight stainless steel exhaust header
* full-size repackable aluminum muffler
* HRC works-type rear brake system
* Non-slip seat cover
* A handlebar-mounted hot-start system
The standard version is the Honda CRF150R specifically designed for beginners and medium-skilled bike riders. The Honda CRF150R-Expert is designed for bike lovers who loves racing and comes with specs a little different than the standard one, namely the 19-inch front and 16-inch rear wheels, longer wheelbase (50.6 inches), half-an-inch more rear-wheel travel, taller seat, weighs 169.7 pounds which is about 20 pounds heavier than the standard one.
If given the chance to ride the Honda CRF150R, you'll never ride another two-stroke again unless you absolutely have to. The power of this bike is simply unbelievable. It pulled hard and smooth from bottom to top. In fact, some bike testers believe that this Honda CRF150R bike can be compared to something larger like the 250F. The bike performs beyond what is common among 150s and it is silent too with a huge aluminum muffler on it.
Sometimes it can be hard to ride a powerful bike, so, our question was…how easy is it to ride this bike? And the answer came as a resounding ' Yes, it was easy as pie '. If you wanted to short-shift, it did just that. When you wanted to run it high in the rpms, it did just that. When you want to swerve through corners, it did just that. If you needed to make a jump smoothly, it did just that. Hence, the conclusion is that the Honda CRF150R is very easy to control and ride…easy enough for novice bike riders. Even if we wanted to power-slide or back the rear of the bike into a corner, the process is flawless.
But as no one is perfect, no machine is either and Honda CRF150R comes with minor faults and issues but the problems weren't big enough to warrant a negative review. The gas tank of this bike is slightly fatter so, those who are used to the earlier version may have to adjust to it…plus, the seats are a little higher than usual. And because of the hot start feature, bike riders may have to get used to how difficult it can be to start the bike. And one other thing, the clutch is now a full-sized one which may make gripping a little harder for younger kids or for children who have small hands.
But all in all, the Honda CRF150R might just make the perfect birthday present.
=============================

Only registered users can write comments.
Please login or register.
Powered by AkoComment Tweaked Special Edition v.1.4.2