MotoCross Graffiti Bedding Set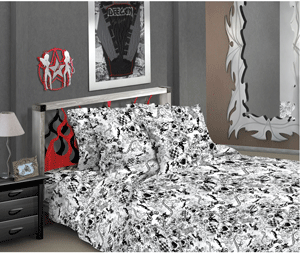 Available in twin, full, queen, king and cal king. Price starts at
$139.95
Clic here for more details.
Best Selling Kids ATV
Kazuma Meerkat 50 ATV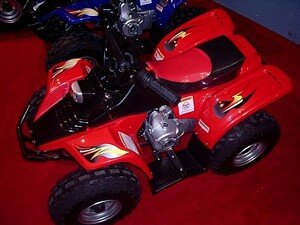 Retail Price:$825.00
You Save: $300.00
Your Price: $ 525.00

Fun Stuff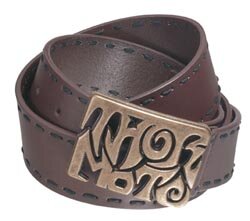 Youth ATV Motocross Accessories, Wallets, Belts, Watches at Raceway ATV
Click here for details.
Who's Online
We have 2 guests online

Watch the latest videos on YouTube.com
Making A Movie Out Of My ATV Trip Videos
Written by Raceway ATV - the #1 kids Kazuma ATV dealer

Sunday, 10 February 2008
It's January and the sun could be peeking out from behind the clouds a lot more than it used to. The wind isn't as mean anymore either, so, maybe you're thinking what I'm thinking. Let's head out and gun the quad! Seriously, with spring time coming up, I really am looking forward to a lot more riding without the slipping and sliding. Oh, sure, I love riding in the snow too but let's admit it, if you're on a quad, not a snowmobile, riding any normal track or trail is just….tough, you know what I mean? Unless you've got a really good hold on your quad and is as familiar with it as you are with what's in your pants, then fine. If you're not, riding an ATV during winter can get tricky. That's not to say I'm not good….that's not what I am suggesting at all, lest you think I am being humble and all that. LOL.
Anyway, as I was dreaming about taking my quad out for a spin and heading out into the wild again, I rummaged through my laptop hard drive and saw quite a lot of shots and videos I took while on my trips. Yes, call me a sucker if you want but this is the kind of thing people do when they're sulking. They wallow in self-pity and relive those brilliant moments. But that's not what I am writing about today.
I saw a lot of clips of my ATV trips….I would post them all up but they're too many….and have decided to compile them, cut and edit them and put them together into, like, a video or music video if I can find the right music to go with it. Those memories are very precious to me, so I don't want to use just ANY kind of music for my quad videos! No siree! I want something like….I dunno, say….Daughtry. Cool but hard. At the moment, I'm still trying to put my ATV videos together because it takes a long time – I have a newfound appreciation for movie editors and other kinds of editors. After watching so many different videos that I've filmed during those ATV wild excursions, I can't remember which is which and which part of the video I want to put into the video.
Although Microsoft's Moviemaker is kind of elementary and sucky, it works OK. it works fine. Hey, I am not a movie maker and I don't have professional training for that kind of thing so….don't expect me to be a maestro at this kind of stuff. I can just as well pull a quick ATV trick out from under my sleeves but all this movie-making business software things make me spin out on my quad.
Anyway, I am thinking about putting them together in a music video so that I can show off to my friends and family whenever they come around to my house for drinks or a movie. I've told them tons of things about how much I enjoy my ATV riding trips, some of them are enthusiasts like me, but most of them prefer sissy sports like baseball. Gargh! I keep telling them how amazing quad riding is and how wonderful nature looks when you're swollen with insect bites and stink from sweat riding out there in wide open terrain and all that. Despite all my remarkable efforts to interest them, they're not.
But with this music video….it could be another chance, don't you think?