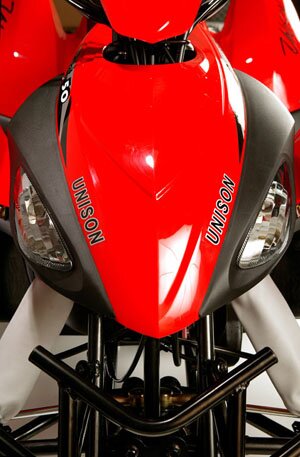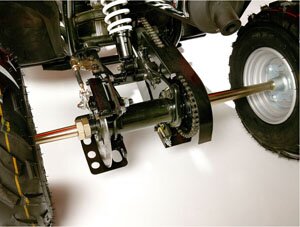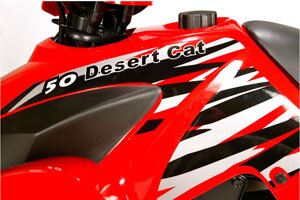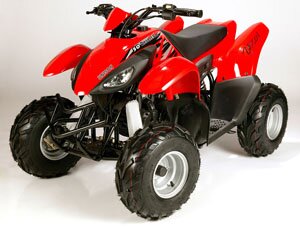 50cc Unison Sports - Desert Cat

Retail Price:$1,550.00
You Save:$100.00
Your Price:$1,450.00 without reverse




Your Price:$1,550.00 with reverse gear

Order with Reverse Below.

Aggressive styling. Longer and wider wheelbase for more stability at high speed. Adjustable brakes and governor. All in one Design: On/Off Switch. Automatic CVT Transmission. Automatic oil injection, no premix needed. Battery: 7amp. Chain Tensioner. Dual Front & Single Rear Adjustable Shocks. Dust free ATV cover & Flag. Electric start with back-up kick starter. Engine stop switch for safety. Rear-Mechanical Disc Brake. Oil Tank low indicator light. Parking Brake. Simple field tool kit under the seat.

This ATV comes with a free water proof/dust proof cover, 1 pair of shock covers, and flags.


Actual

Dimensions Of This Unit.
Length
53 inches
Width
Front Wheels 35 1/2 inches
Rear Wheels 36 inches
Height:
from ground to top of seat
27 inches
Distance from top of seat to foot pegs
17.5 inches
MODEL
50cc Unison Sports - Desert Cat
Engine
2 stroke Horizontal
Cylinder No#:
1
Bore Stroke:
40 x 39.2

Starter System
Electric
Transmission System
Automatic (C.V.T. system)
Suspension System

Front: Double Wishbone
Rear: Single Damper

Brake System

Front: Drum
Rear: Mechanical Disc

Fuel:
Unleaded Gasoline
Displacement:
49.3cc
Lubricate:
Separated
Lubricate Capability:
1 Liter
Cooling:
Air
Carburetor:
Mikuni
Reverse Gear:
(Optional Feature)
Size L x W x H
57" x 34" x 36"
Seat Height
28 inches
Ground Clearance
28 inches
Seat Height
28 inches
Max. Load:
176 lbs
Dry Weight
226 lbs
Wheelbase
34 inches
Tire Front & Rear
16 x 8-7 / 16 x 8-7
Maximum Power (kr/r/min)
4 ps / 6500rpm/min
Maximum Torque (N.m./rpm)
4.2N-m / 5000rpm
Compression Ratio:
7.2:1
Ignition Type
C.D.I.
Our Unison 50 ATV will provide your child with hours of fun, and the chance to explore their surroundings on 4 wheels.

Additionally, Raceway ATV will match any advertised price on the Unison 50 ATV, just show us the competitors ad and consider the Unison 50 ATV yours!

Our Unison 50 ATV is available in a number of colors to fit any child's particular interest, including Red, White, Blue and Black. If your child wants a 50 ATV and you want a good looking 50 ATV, then the Unison 50 ATV from Raceway ATV is the one for you!

Call us today to get your Unison Desert Cat 50 ATV shipped to your door.
6 Month Warranty on the engine.

To Order Call 1-888-Race ATV