Dear Raceway

My kids love riding with daddy. Here are some pictures of me and my two boys creating ever lasting memories.

Mike, Tracy, Michael & Matthew Wilson

Raceway ATV,

We ordered 10 of the mini 90's from Raceway for a parade on the 4th of July, we dressed up as super hero's and the kids loved us. Thanks for all the great support befor and after the sale.

Captain America (St Louis)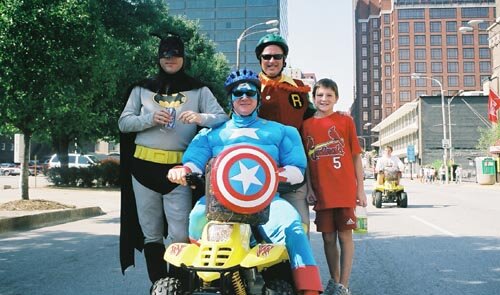 Hello,

I just wanted to let you know that the Falcon 90 has surpassed our expectations. Our son has already burned through 6 tanks of gas within a week. We were also very impressed with your customer service. The chain guard cracked and after I placed a call to you we had the replacement shipped priority mail to us within two days. No questions asked! There are so many on-line retailers for youth ATV's that it was hard to finally pick a vendor. Your testimonials helped us make the decision and we are very satisfied with Raceway. Our other son will be old enough next year for his own quad and we'll be placing another order next year.

Thank you again for the great customer service, product, and price.

The McCullough Family


---

After having literally driven the wheels off of his plastic baby 4 wheeler, it was time for the real thing. We were really impressed with the customer service, price, and quick delivery. We also appreciated the fact that what we asked for is what we got. Our son wakes up in the morning early so he can ride before school and hops on as soon as supper is over.

Thank you.

Sincerely Yours,

Dina, Jeremy, & Jackson H.
South Texas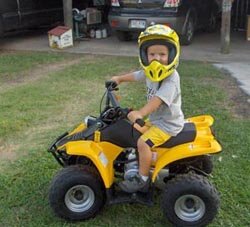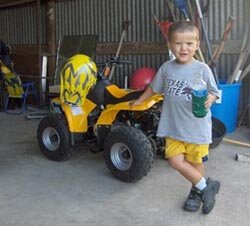 I just wanted to take a moment to share with everyone the outstanding service we received from Raceway.  We assembled my sons quad on Christmas Eve day - However when it came time to start it we could not get it started.  I called Raceway and they were closed for the day but said to email them with any questions or problems and that someone would be returning calls up until 10 pm that night.   I was not very confident that we would get a return call on Christmas eve but at 6:30pm my cell phone rang and it was Raceway calling us to help us get the quad started.  My husband spend about 20 minutes on the phone with this gentleman (do not remember his name) but he was just incredible.  He was extremely patient and helpful and as he promised had the quad running in minutes.   I am just extremely impressed that they would take the time on xmas eve to return our call.  Thank you so much. How happy my son was Christmas morning.  Thank you Raceway!!!
Gerry, Kym and Cameron Langevin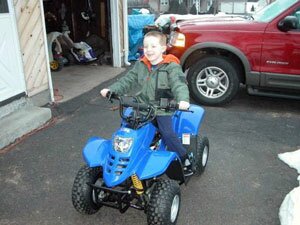 Just wanted to drop a note to the folks at Raceway ATV to let you know how much my 6-year old son loves his Raceway 90cc-mini that we gave him for Christmas.

After many hours of research on the internet, I settled on Raceway because of the many unbiased testimonials on internet discussion groups, supporting Raceway's reputation of great customer service. While I found many, many dealers for ATVs on the internet, It was refreshing to talk to the people at Raceway, who really know their product, and had all the answers to my many questions, before and after the sale.

Thanks for a great experience!

Dave Arruda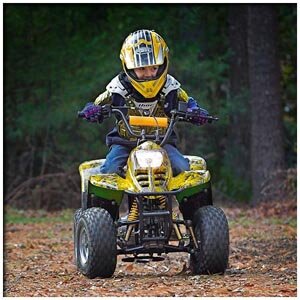 Hi, Dawn here, I just wanted to let you know that the new engine that you sent has worked out great!! My son is getting a lot of enjoyment out of it. We can't tell you how nice it was dealing with a man that backed his words with action. I know it was a pain but we were impressed with the excellent customer service, Thanks again Robert & Dawn (sent you a picture) what do you think?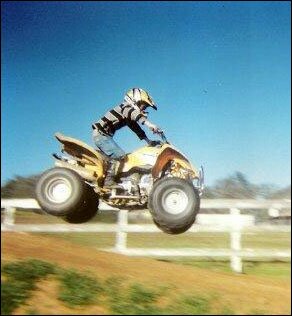 Thanks John, My daughter loves the ATV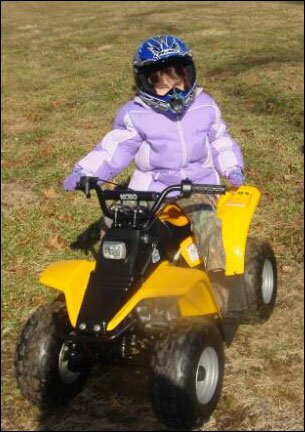 I would like to thank Raceway. I Purchased 2 of the 150 MKII and a 50 Yamoto. Great products.
Easy to assemble and started on the first try. My kids and I went through mud and water with no problems. I had a hard time getting them off the bikes even after 6 hours of riding.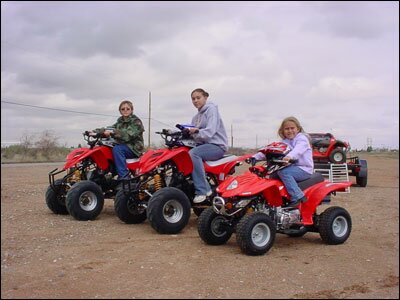 Mike B.
Hello, I just received my son's new kazuma Redcat 50. He went crazy when he saw it. The look on his face was priceless when he rode it for the first time. I couldn't get him off it. The safety features are great and he was riding around in no time. We had been in the market for a youth quad for sometime. The choices were endless and many seem overpriced. I selected the kazuma 50 because of the semi -automatic tranny that can be locked into a certain gear as an automatic while he progresses. What a great concept this is, especially if a child is going to use a clutch in the future. I'm glad I found your site. Your price and shipping is simply unbeatable!!  The set up was a breeze and the quad started right up and worked perfectly. I just wanted to let you know how pleased we are with our purchase and I can easily see another purchase in the near future. THANKS!
Ted Hebert   Lafayette, La

I received my sons Kazuma 50 cc on 04/01/05. He has not stopped riding it yet. He loves it. I also like the control features on it to help teach him in a slow manner how to ride atvs. I especially like the four stroke engine. The little atv started right away after putting gas in it for the first time. I shopped numerous online sites for pricing and can say your business offered the best price along with the unbeatable free shipping delivered to your door. I have already recommended your company to several other friends of mine who are looking for small atvs for their children. Thanks RACEWAY for bringing joy to my sons life at a price I could afford!!!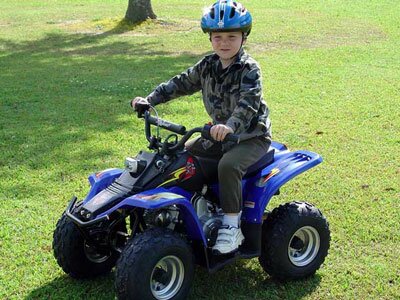 John,

Here are some pictures of all our girls (ages 2, 4 and 6) enjoying their new Redcat 50.  Thank you for "ALL" your help and assistance.  It truly was a pleasant experience.  We look forward to possible buying our next one (the 6 year old has already outgrown this one) from you.

Sincerly,

Richard and Lori Serena, Rachel and Lindsay

(pictured is Lindsay)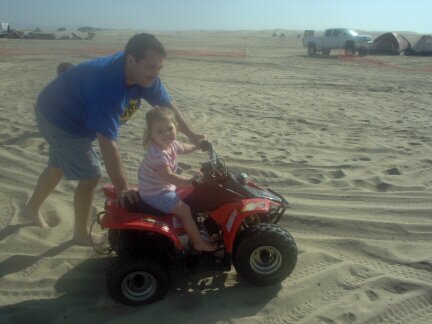 Thank you Raceway ATV .

My son and my nephew just received their new ATV's last week. As you can see, they are having a blast with them. The ATV's you sell have the best prices on the web. The quality of the ATV is excellent and they are well worth the money!! 

Thanks,
Joel & Sonja Smalley Attalla, Alabama