MotoCross Graffiti Bedding Set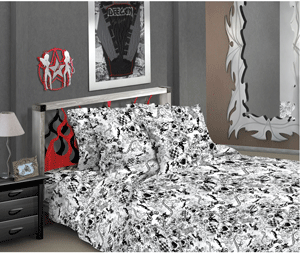 Available in twin, full, queen, king and cal king. Price starts at
$139.95
Clic here for more details.
Best Selling Kids ATV
Kazuma Meerkat 50 ATV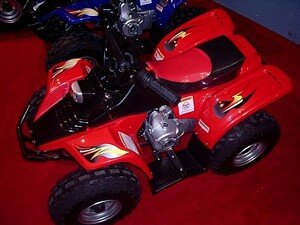 Retail Price:$825.00
You Save: $300.00
Your Price: $ 525.00

Fun Stuff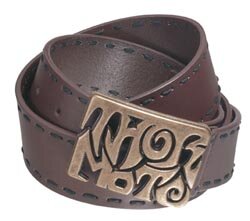 Youth ATV Motocross Accessories, Wallets, Belts, Watches at Raceway ATV
Click here for details.
Who's Online
We have 2 guests online

Watch the latest videos on YouTube.com
Latest Articles
It's common for singers to lose interest or spark after performing on stage for ten years. I've heard of writers getting tired of writing and suffering from a perpetual writer's block after writing for decades. I've also heard of ATV riders and racers losing their passion for ATV riding after racing competitively over many years. If you run an adventure camp and have been doing so for some years, the 'fun' and 'excitement' in running the adventure camps can turn into a chore….a job. It's therefore, common for people who love ATV riding to turn to something new after a couple of years. I've had friends ask me if I ever get tired of ATV riding because it's a job for me now. I write consistently about my adventures and tips about ATV gears, ATV accessories and everything ATVs and dirt bikes day in and day out….do I get tired? Of course I do. But just like a marriage, you married it, you stick with it, you know what I mean?
Some people think of ATV riding as boring….can you actually believe that? I mean, there's nothing in this world more fun, for me, than ATV riding. It's one of the most diverse activities in the Universe! But with that said, it's just me, I think. I've been riding ATV for eons now and it never ceases to be fun, to be honest with you. think about it, there are so many things you can do while ATV riding. And here, I've outlined some of the things that I love doing when riding my ATV. Add some of your own if you want to….just so I can add it to my list too!
Fishing – This is something that I used to do with my dad. It used to be just fishing with me and my brother but when I was eight, both of us got our ATVs and we finally got to ride ATV with my dad. And we graduated to riding ATV and fishing…not at the same time but we'd ride out in the jungle near our place and then stop for a short while to eat and then fish our brains out under the hot sun. Nature's cruel, I tell you but we'd be beaming with pride, holding up our 'rewards' for our mother to cook for us!
Being in this industry, I get asked this a lot….what exactly is it that makes a mini ATV a mini ATV. Why not just call it an ATV made for kids? It is, after all, precisely that. In all honesty, although mini ATVs are smaller versions, slower versions of the adult ATVs, there are many differences between an adult ATV and a kid's mini ATV.
The most obvious reason would be the size of the motor which are made for kids of different ages. For instance, kids between 6 and 12 should be riding 50cc mini ATVs; kids 12 to 16 should be riding 90cc mini ATVs and kids over 16 should be able to handle mini ATVs or ATVs over 90cc. The threshold that we usually keep to is 16. Although this is the regulation governing mini ATV riding for kids, I sometimes think it's a little unfair but rules are rules, of course. For example, it's not uncommon to find a very mature 10 or 11 year old who can easily handle a 90cc mini ATV, especially girls but because the law is put in such a way that mature ATV riders are not allowed to ride on anything faster because we cannot judge maturity. While there are measuring methods for width, height, age but there's none for maturity! And furthermore, some kids are heavier, bigger or taller than others the same age. The rules don't take into account that factor as well.
Hunters discover thousands of dino tracks at popular ATV area in Kane County
KANAB - About 190 million years ago, a sharp-toothed and clawed carnivorous dinosaur about the size of a robin left a lasting impression on southern Utah. And those fossilized footprints - along with stone tracks of five other dino species, including three-toed crocodiles and a 35-foot-long, four-toed plant-munching prosauropod - have been discovered in a popular off-road-riding area of Kane County. The site, five miles southwest of Coral Pink Sand Dunes State Park on Bureau of Land Management property, was reported to a BLM worker by some hunters about three weeks ago.
Recognizing the significance of the prehistoric prints - thousands of them - officials quickly closed a football-field-sized area to ATVs. "Some people knew the tracks were out there, but we didn't," BLM spokesman Larry Crutchfield said. "But most people didn't even know they were riding over dinosaur tracks." Crutchfield said the BLM shut down the site after consulting with the county's natural-resources committee and area ATV clubs. "Everyone agrees the site should be preserved," said Crutchfield, noting tire marks have scarred some tracks. This story is from The Salt Lake Tribune for this fill story please visit them at www.sltrib.com
Steve and Kathy Tebbe, of Whispering Meadows Resort, have opened 10 miles of ATV trails on River Ridge ATV Trails, LLC, near the Maquoketa River.
The trails consist of some wooded and some open riding areas. Guests are allowed to have picnics on the trails. Riders need to be 16 years or older or 12 years old and accompanied by a parent or guardian.
The Tebbes do not rent bikes and there is a $10 daily fee per bike. For reservations or more information about scheduled events this season, call 563/357-3784 or 877/968-9747. This story is from www.thonline.com
The state is buying a 224-acre former sand and gravel strip mine in South Jersey to create an ATV park, part of an effort by the Department of Environmental Protection to stop illegal off-road vehicle and dirt bike riding in state parks and in the Pinelands.
DEP Deputy Commissioner John S. Watson said his department has spent $1.2 million in Green Acres funds to purchase the old strip mining tract in the Pinelands in Monroe, Gloucester County. Plans call for creation of a second such park in Ocean County.
"Forests, wildlife and natural areas are suffering greatly because of illegal use," Watson said, adding ATV use conflicts with other state park uses, like hiking and horseback riding, and is detrimental to the parks.
The project has the support of the Pinelands Commission and off-road advocates, but is opposed by environmentalists. Watson said the proposed Sahara Sands Inc. site is about 60 percent mined and 40 percent forest. This story is from www.nj.com for more on this story please visit www.nj.com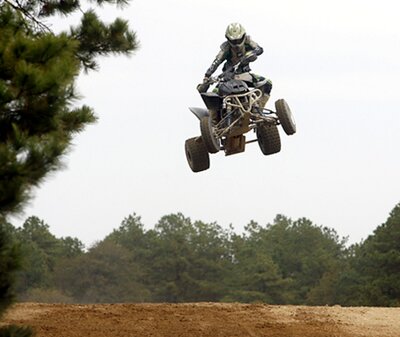 Photo from www.nj.com