MotoCross Graffiti Bedding Set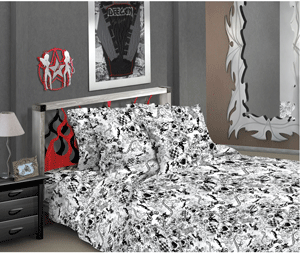 Available in twin, full, queen, king and cal king. Price starts at
$139.95
Clic here for more details.
Best Selling Kids ATV
Kazuma Meerkat 50 ATV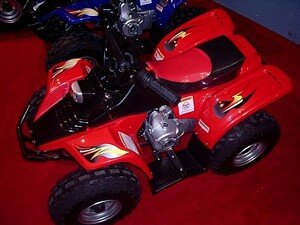 Retail Price:$825.00
You Save: $300.00
Your Price: $ 525.00

Fun Stuff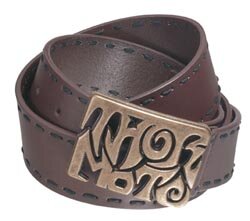 Youth ATV Motocross Accessories, Wallets, Belts, Watches at Raceway ATV
Click here for details.
Who's Online
We have 2 guests online

Watch the latest videos on YouTube.com
What does it take to be a top racer?
Written by Raceway ATV - the #1 kids Kazuma ATV dealer

Wednesday, 16 January 2008
Looking at the Top News Stories filed under motocross and racing, my mind started chugging off in a direction that it has not chugged down for a long time. What does it take to be a top ATV rider  or a racer…any type of racer? When I was younger, I have to admit, it was one of my dreams to race with the best, to stand on the podium, be admired. I wanted to have cameras going off in my face as fans cheered and my team congratulate me. I wanted to be the best ATV rider in the world. I am not one now….in fact, I am lowly writer with a passion for ATVing, ride around with load of people I call friends all the time. And yet, I am not unhappy but I've explored the world of ATV racing and came into contact with some of the best ATV riders in the country – I am supremely proud of that!
So, what does it take to be a top ATV rider?
Passion and Determination
If you want to be the best (in anything), you cannot do it without passion. Passion is the kind of fire that burns unconditionally all the time. There is no rhyme nor reason as to why you're passionate about it. For me, it's ATV racing and for all top ATV racers in the world, it is this passion that drove them past each of their threshold points! Determination is another element that you cannot do without if you want to be a top ATV racer. When times are tough, when someone keeps racing past you time and time again, determination to claw your way to the top will keep you there.
Dedication and Commitment
A lot of people have the passion and determination to make it big riding their ATVs and racing in circuits and races….but many, you will see, fall out after a couple of years or after a decade or racing. Why? Dedication and commitment. Like a business or being a parent, racing the ATV to the top takes dedication and commitment. Which means that you must give it everything you've got, organize your life around it, shift and move your priorities time and time again as you live past each stage of your life.
Discipline
If you study, you do your homework on time. When you're working, you arrive at the office on the dot. When you race your ATV, you need the discipline to practice on time, improve your techniques and riding capabilities continuously and put in effort every single day. This is something not a lot of people can do, what with so many modern distractions in life. But without discipline, it's hard to succeed in ATV racing….in fact, in anything.
Sacrifice
No, I am not talking about Elton John's song. When I say sacrifise, what I am talking about is sacrificing immediate personal gratification. You need to get your sights further and concentrate on racing your ATV. Stuff like girlfriends, boyfriends, friends, late nights, extra beer, extra cheese, holiday in Florida….sometimes, these things need to take a backseat. But as some of the top ATV racers have shared with me….it's a long-sighted thing. You sacrifice now but you reap the rewards later on and when you look at it, it's more like delayed gratification.
One last thing….support
No one is a one-man-team. The journey to the top of the ATV racing list cannot be possible without support from family, friends, sponsors and a kick-ass team of mechanics! When you're racing the ATV out there in the tracks or trails, you could never be alone with the support of all those people who are cheering you on back there and have given your career the best they've got to give.