MotoCross Graffiti Bedding Set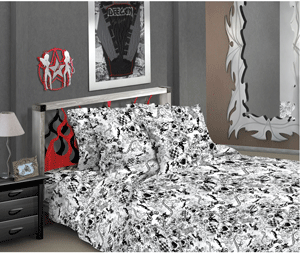 Available in twin, full, queen, king and cal king. Price starts at
$139.95
Clic here for more details.
Best Selling Kids ATV
Kazuma Meerkat 50 ATV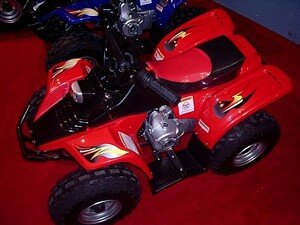 Retail Price:$825.00
You Save: $300.00
Your Price: $ 525.00

Fun Stuff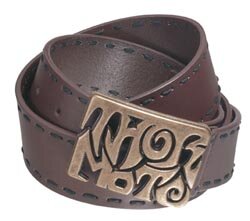 Youth ATV Motocross Accessories, Wallets, Belts, Watches at Raceway ATV
Click here for details.
Who's Online
We have 2 guests online

Watch the latest videos on YouTube.com
Harlan County in Evarts Kentucky
Written by Raceway ATV - the #1 kids Kazuma ATV dealer

Wednesday, 12 March 2008
I don't know how they do it. It's amazing what persistence, hard work, the spirit of togetherness and a lot of money can do to a piece of land destined for nothing. I am talking about a place in Evarts Kentucky in a little corner (not so little, actually) in Harlan County where it's home to popular Kentucky ATV clubs like the Trail Blazers, Ridge Runners, KY Riders and White Tail Riders. Before this piece of land became the mega-popular ATV riding area for locals and people from other parts of the country, it was a deserted old land mine. Now, it's literally a gold mine. It took a lot of political work, and persuasion from various leaders within the community, pouring of hard-earned cash into the project and contribution in the form of money and energy for this to happen, though. Most of those who contributed their time to making this dream come true are people from the ATV riding clubs and together, they formed the KY Mountain Trails Development Coalition.
Frankly speaking, I don't have the exact figure on how big the trail is but I would reckon is close to something like 1,000 acres of riding space. Now, tell me that isn't exhilarating. If you've never been there, it's about time you plan a trip there for the ride of your life! I mean, let's get this straight….we're talking about over 150 trails. I couldn't finish riding this place on my best quad even if I had a month off work to do it. I was lucky that girls dig me, so, I struck up a conversation with a pretty little girl about the age of 8 who told me her father told her that there are lots of other 'people' (I think she meant political figures or companies) who are trying to make the ATV trail bigger. I was there a couple of years ago and have been itching to go back for with my ATV for another round of riding…but…..well….
It seems that 30,000 or more acres of land is going to be (or is already) added to the large riding area. It's the biggest in Kentucky, I'm telling you. And I think they're doing talks with many other corporations and owners of land within neighboring regions for a partnership to make the ATV riding space even bigger. Eight, my friends, eight other countries are involved in this transformation and I can't wait! And if you think that's the best part of the story, you're wrong! The best part is that you pay zilch to ride here! Man, talk about a free ride….this has got to be it. The scenery, I don't even have to say it but I will, is magnificent and totally out of this world! I've never seen such a beautiful panoramic view anywhere.
There's no free lunch they say, and there's bound to be someone waiting to pull an 'Avon Lady' trick on you. I know what you're thinking. I'm telling you that you absolutely pay nothing to ride. The only thing you've got to consider forking out mullah for is food and accommodation. You can go the 'caveman' way by cooking your own food in pitch darkness or pack your own lunch or eat out of the can for a couple of days but if you're not hot with that idea, you'll have to fill your stomachs in a nearby restaurant or café. Which is, if you want to put it that way, the catch. Hey, you eat, you pay….absolutely nothing wrong with that. Although riding your ATV here is free, camping is not free.
You know, one thing I remember about riding my ATV here is that the trails were wider than I would've imagined and that the trail is very aptly marked. Green for beginners, Blue for medium-skilled riders and Red for more experienced riders. As long as you keep to your 'color', you should be fine. Those who are more interested in the scenery than revving up their ATV engines, you should stick to the Green trails.
Unless you're sure you're up for it and in top form, don't try the Red trails! Small, narrow and dangerously steep trails snaking up and around the hill is a killer. There's something else for daredevils that you might want to try, actually. The Extreme Challenge Area where lots of people test themselves out in….not a walk in the park I have to warn you. You can easily spend a couple of hours trying to finish the trail here.
You can find more information about this ATV riding trail at www.kyoutdoors.com The Ridge Riders are extremely active in organizing activities throughout the year and you can visit their events calendar here .