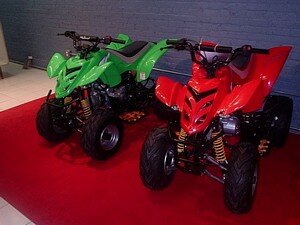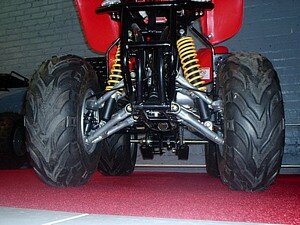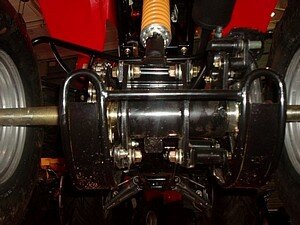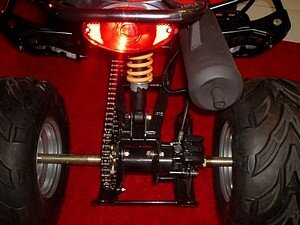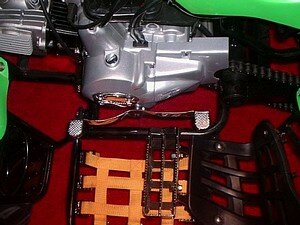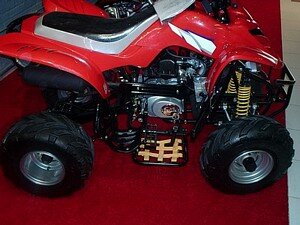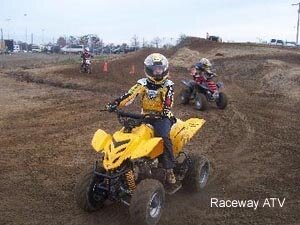 See What Our Customers Are Saying!
Kazuma Falcon Deluxe ATV

Retail:$1,500.00
You save:$375.00
Your price:$1,125.00


Don't forget a matching helmet - See our kids helmets >>

The new and improved Redcat Kazuma 110cc ATV. Kazuma has really shocked the industry with there new Kazuma 110cc. With it's new suspension the Kazuma 110 rides as good as it looks. Kazuma has raised there 110cc series ATV to 32" from the ground to the lowest point of the seat and is now 4" wider than the 2004's. Another sharp looking raptor style ATV from Kazuma. The Kazuma 110cc ATV has been a real customer favorite. With it's beefy appearance the Kazuma 110cc is sure to catch eyes in any trails. Kazuma has also added another great feature with its gear indicator lights located at the bottom of the handle bars. This option gives you the convince of seeing which gear you are in.
From front to back the Kazuma 110cc is one of the best look ATV out there. Kazuma has design a beautiful set of plastics for this bike. Starting with the rigged cuts right above the headlight to the cut outs on the rear fenders, the body of the Kazuma 110cc is perfect. Kazuma has also added a two tone seat for the finishing touches.
For safety Kazuma has there standard nerf bars right under the foot pegs. This is always a good option to protect you if your foot was to slip of the pegs. The kazuma 110cc also has a speed limiter screw on the opposite side of the throttle. This allows you to control the speed of the Kazuma 110cc. And Kazuma has added a horn to this model also. The top speed on the Kazuma 110cc is about 38 mph.
The Kazuma 110cc ATV is a 3 speed semi-automatic with the great option of reverse. With the Kazuma 110 you have the best of both worlds. Gears without a clutch. The kazuma 110 is a great reliable 4 stoke ATV. No more headaches of mixing oil with your gas. The Kazuma 110's Honda style knock engine really tops the cake. This engine has been around for a long time. One of the most basic and durable engines ever built. Raceway ATV is so confident in this engine and the Kazuma 110cc that we have no problem giving a 6 month front to back warranty on this model and all of are Yamoto and Redcat Kazuma ATV's.
The Kazuma 110cc is a rugged chain driven ATV. With a front A-arm suspension. The Kazuma 110cc can ride with the best in its class. And for the price there is no 110cc series out there to compare. With the convince of an electric start the Kazuma 110 is the king of the trails. This unit is available in 4 beautiful colors. Kazuma red, Kazuma yellow, Kazuma blue and Kazuma green.
Raceway ATV ships any of are Yamoto or Redcat Kazuma ATV's or dirt bikes to your door free. There are no tricks or hidden fees at Raceway. The price in red is your total price, shipped right to your door.
Raceway ATV is an authorized Kazuma ATV dealer. We at Raceway suggest that you take the time out to do the proper research on any company before you buy anything. It is always better to be safe the sorry. We ask that you do the same research on are company. We are confident that you will be happy with the results. Don't be fooled by other so called dealer that have no experience if this field what's so ever. Raceway ATV has over 10 years of experience in the motorcycle dirt bike and ATV industry. Not only in sales but service and riding.
We at Raceway ATV knows that there is a lot more to a sale then just the purchase. Raceway ATV has earned it reputation by its professional staff and standing behind every product that we sell. If you give us the chance we will show and prove to you why everyone is saying Raceway ATV is the best online dealer in the business.
When you think ATV, Think Raceway.
MODEL
Kazuma-110cc ATV
Engine
110 (107cc) 4-stroke SOHC engine
Cooling
Forced Air Cooled
Starter System
Electric Push Button Start
Fuel Tank
1.7 gal, with reserve tank and shut-off valve
Transmission System
3 speed w/REVERSE, semi-automatic (auto clutch), 2WD w/chain drive
Suspension System

Front: Independent A-arm front suspension
Rear: Single Swing Arm rear shock suspension

Brake System

Front Double Drum with locking parking brake and safety switch
Rear Disc Brakes

Size L x W x H
57.7" x 35.3" x 35.1 (H to top of handle bars)
Seat Height
32 inches (lowest point on the seat)
Lighting
Front low and high beam integrated (cat eye) lights, working rear brake like and side reflectors.
Safety
Engine kill switch, speed limiter, fuel shut-off valve, start/brake switch to start engine, reserve gas tank, reflectors, speed limiter, reverse indicator light, neutral indicator light, horn. Max speed 35-40 Mph
Tires
Upgrade oversize
Anti-theft
Ignition Key switch, VIN, Engine Serial Number
Overall Weight, Size
Dry Weight 256 pounds
Wheel Base, Seat Height, Ground Clearance
42 inches (middle of front tire to middle of rear tire), 27 inches, 7 inches (ground to frame)
Other Items
Detailed owners manual and parts manual included. Rear tail light, disc brake and chain guard. Chrome side engine covers and starter cover. Front foot guards. Very stable. Webbed foot rests. Two way foot/toe shift arm.

Order Your Kazuma 110cc ATV Today!